Looking to downsize, but don't want to leave your neighbourhood? Now you can age-in-place, with Garden Suites. Garden Suites, which are also known as Granny Flats, Laneway Homes, Carriage houses, or Garage Suites, are smaller homes (400-800 square feet) that are placed in backyards.
As we age, our needs and priorities may shift. Oftentimes, taking care of that large home that you raised your family in, may become less desirable than a maintenance free new home. These laneway homes are a great way to transition into a new home that better meets your needs, without ever leaving your own lot, or even your own neighbourhood. Backyard suites are allowed on almost every lot in Edmonton and are becoming increasingly popular because of the opportunities it provides.
Unique Age-in-Place Opportunity
For seniors wanting to maintain their independence, Garden Suites are particularly well suited addition to the yard. It allows seniors to generate a rental income from the main house that can help pay for retirement. These unique suites also create opportunities for family members to live close by in the main house.
When designed to be fully accessible (single storey, no stairs, wide doorways, walk-in baths, etc.) they can help delay the future move into a care facility.
Many adult children of an older adult will decide to build a Garden Suite on their property for their parents to eventually move into. In this case, the Garden Suite provides a high level of flexibility as it can be rented out as a mortgage helper before and after their parents live in it.
The average cost of a Garden Suite in Edmonton is $150,000, and they can add a similar amount of value to your property. Banks offer a number of different options for financing a Garden Suites, making them a feasible option for many homeowners.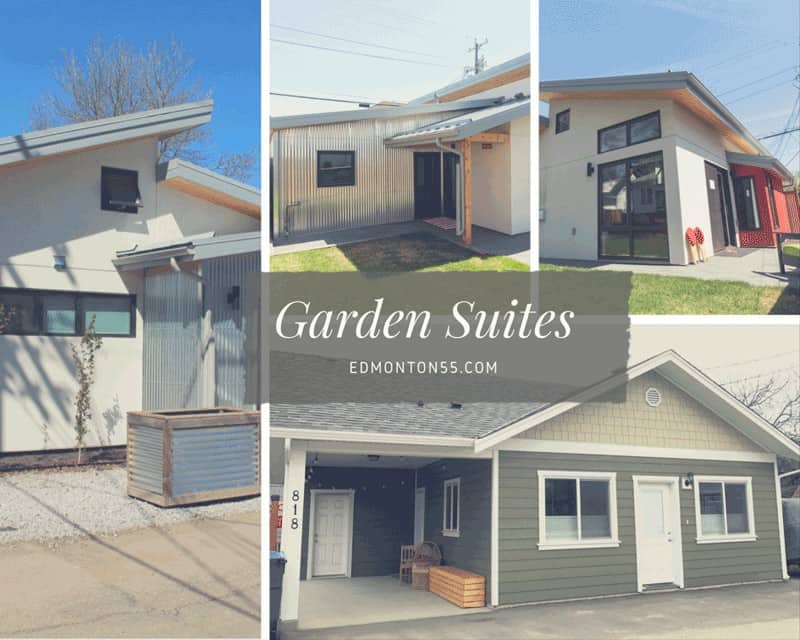 The Garden Suites Workshop in Edmonton
You can learn more about Garden Suites, a local non-profit organization called
YEGarden Suites
, is hosting a three-part Garden Suite workshop series for interested community members. The workshop series provides you with an opportunity to learn about the process to build, design, and finance a suite.
The series takes place at the Alfred H. Savage Centre (13909 Fox Dr. NW. Edmonton) on the following days:
Part 1: November 20 2018, 6:30pm-8:30pm
Part 2: November 21 2018, 6:00pm-9:00pm
Part 3: November 29 2018, 6:30pm-8:30pm
Part one of the workshop series cover regulations, permitting, and a Q&A from garden suite owners. Part two offers presentations from industry experts on building and designing garden suites. Part three describes how to finance and budget for a Garden Suite.
EVENT DETAILS REMOVED AS EVENT IS ENDED.
As an Amazon Associate I earn from qualifying purchases.
Additional Reading on Garden Suites:
·
Garden Suites taking root in Edmonton
·
City of Edmonton – Garden Suites
·
A Big Book of Small Home Plans : Over 360 Home Plans Under 1200 square feet
·
Small Homes : The Right Size
Edm55 Asks: I'd love to hear about your garden suite plans in the comments section below.