Join the fun & get rid of excess stuff along the way
1 email weekly with a focus to tackle one small space
24 weeks = 6 months
manage it at your pace
You aren't alone if doing some 'decluttering' has been on your mind for some time.
Join this FREE challenge and receive an email once a week, to focus on one small element of your home – you'll be amazed at the progress you can make. Join anytime!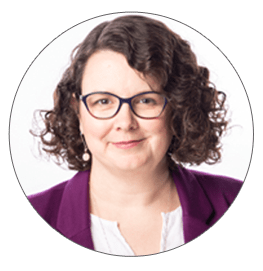 Jolyn Hall, BScN, SRES®, CRTS™
55+ Housing Navigator
Owner, Edmonton55
Every day, I help older adults and families make housing choices around staying at home or making a move to remain independent. So many times, dealing with their 'stuff' is a higher priority than making a best housing choice while they can. I created this challenge during the pandemic, so that my clients and I had something to do during the fall 2020 lockdown, and now you can enjoy this challenge too!

Discover what past participants had to say…
"Even though I haven't done the challenge I know I will be letting go of so much "stuff". Just be reading the weekly challenge, I would see things while walking through the house and it would "click" that there is a place for that or not. There were many times I would see something and just get rid of it right then! Between things from my aunt's home and things here, I have almost become on a first name basis with the donation people. LOL There were times I was there at least 3 times a week and some of the donations were from my home. I even went to the garage the other day and decided to get rid of MY box which was sitting behind my car. The things are gone but the empty box is there so I have something to put the next donation pile into…Thank you so much for this program! I will be starting it in earnest soon and I will be thanking you all along the way as I read your suggestions and realize I feel better when the "junk" or surplus items, are gone. THANK YOU!!"

GB – august 2021
"Do a bit at a time so it does not become overwhelming. The weekly challenge is helpful in that way and helps to focus on one thing at a time rather than all of it at once…The crawl space, basement storage, and garage will be the hardest. Deciding what to keep, what to store in a storage facility, and want to 'get rid of' will be hardest. The suggestions for places to donate will be much appreciated."

AR – august 2021
"Just wanted to let you know that I'm still in the decluttering challenge! I've tackled most of the weeks (with a couple of notable exceptions), not always finishing but at least I've made some progress. And I'm getting some ideas about how to organize specific areas. I am finding your suggestions on where to donate gently used items especially helpful – one thing my generation, in our Seventies now, finds especially hard is the notion of things 'going to waste'. I'm putting the challenges and donation lists in a binder so I can refer to them easily."

JP – March 2021
Planning to age in place?
To maintain independence, you need to have a safe home that you can easily move around in. Cluttered spare bedrooms, kitchen cupboards overflowing all can create hazards for falling or strains as you try to find and reach items. Downsizing your stuff now, means that your home is better set up to maintain your health and wellbeing as you maintain your independence.
Downsizing to make a move?
If you know a move is in your future – starting to downsize now just makes sense. Why pay for moves to move things you will only dispose of as you unpack or don't have the room for? Why add all that extra time packing when so much can be removed before you begin packing. This is a great challenge when you know a move is in your future, whether your choice or you know your health with require a move soon.
---
But at the end of the day, you are accountable for you…no judgment, no score keeping, no shame if you don't complete a task.
I hope you'll sign up and join me! It's going to be a fun project to downsize to ensure you can enjoy the space you live in to age well!