The Rovers Hot Pots, an Edmonton Coronation Street social club, is an opportunity for you to share your passion for the popular BBC show, Coronation Street. Anyone who has ever watched the British show will know that the Rovers Return is the local pub. Its most famous and much requested dish is Lancashire Hot Pot. Thus, the Rovers Hot Pots fan group was born in 1994.
The club got its start after Barbara Knox, who plays the favourite character Rita Tanner, came to Klondike Days. Many fans attended just to meet this lovely and gracious lady. A couple fans collected names of people who might be interested in joining a fan club. The first meeting was held at a local restaurant and grew from there. For many years they met downtown, but have since moved to Dayspring Presbyterian Church.
Find Fun at the Rovers Hot Pots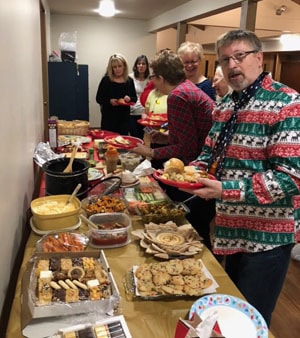 The club is about all things Corry, as Coronation Street is referred to by fans. They have a short business meeting and then spend most of the evening discussing all aspects of the show. When you join, you will laugh, complain, visit, and of course drink tea and enjoy eating treats brought by members. The evening often ends with a Coronation Street inspired game or activity.
The group has two potlucks, one at Christmas where they do a crazy gift exchange and the other in June with pub grub. The membership consists of all ages, backgrounds (with many expats in the club) and even a few men who watch the show. The group goes for outings such as Fish and Chips, or attending exhibits, often with a British theme.
As an Amazon Associate I earn from qualifying purchases.
Interested to Join the Rovers Hot Pots?
The group welcomes anyone who watches the show (and even a few who don't, who just like our company) and would like to join a friendly, warm and welcoming group of fans. There is good bus service to the meeting place.
Rovers Hot Pots
First Thursday of each month
Dayspring Presbyterian Church
11445 40 Avenue, Edmonton
See Calendar Listings Here
Gift Ideas for Coronation Street Fans
· Coronation Street Coloring Book
· Coronation Street – Golden Anniversary Box Set
· 50 years of Coronation Street – the (Very) Unofficial Story
· The Rovers Return – the Official Coronation Street Companion
· see more Coronation Street gift ideas
To learn more about this group, visit the The Rovers Hot Pots Facebook page. If you want more information leave a message on the Facebook page or contact kate@gnknetworks.ca